What is your feeling when you look at this CHILD ABUSE picture? Angry? Sad? Or Pissed Off?
Do you know there is more than 2000 cases were reported in 2008 and this is not including those unreported cases! According to the statistics of Department of Social Welfare (Jabatan Kebajikan Masyarakat), it shows that there has been a rise in reported child abuse incidents in last 4 years, in other words, more than one child is being abused around you!
What Is Child Abuse
A "child" is anyone under the age of 18, according to the
Convention on the Rights of the Child (

CRC

)
and
Malaysia's Child Act 2001
. For your information, some of the bloggers are still consider as a CHILD! Yea, they're still underage and I just passed my 18th birthday last 2 months ago!
Here is the Type of Child Abuse:-
Neglect (Keabaian)

:

occurs when

parents, guardians or caregivers deliberately or intentionally fail to meet the child's physical and emotional needs.

The most common child abuse in Malaysia! Many people might wonder why neglect can be the top, still remember those news about "Kecuaian ibu bapa menyebabkan bayi mati dalam tidur" or "Anak mati lemas atas kecuaian orang tua", those cases are classified as NEGLECT!
Physical Abuse (Penderaan Fizikal)

:

occurs when there is

physical use of force against a child, resulting in harm to the child.

I believe that most of you are very familiar with this type of child abuse.

Hitting, Beating, Kicking, Shaking, Strangling, Scalding, Burning, Poisoning, Suffocating and Severe Corporal Punishment

, any violent action against children is physical abuse!
Sexual Abuse (Penderaan Seksual)

:

the

involvement of a child in sexual activity

that he or she does not understand fully, is unable to give informed consent to or that violates the laws or social taboos of society.Some of the parents raped their children just because they think the children are their belongings. I just read a news about a mental illness girl is being raped by her dad last few days ago, I think this is one of very-common-popular topic in our society.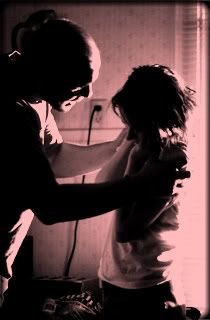 Emotional Abuse (Penderaan Mental)
:
occurs when parents or caregivers consistently
fail to care and love their children
, by failing to provide a nurturing, loving and supportive environment appropriate for their development. Whenever you
humiliation, withholding of love, blaming, frightening, threatening, terrorising, discrimination, ridiculing, and other non-physical forms of rejection or hostile treatment
at your children, you're abusing them!
Addition Information from Department of Social Welfare (Jabatan Kebajikan Masyarakat)
YOU CAN HELP THEM!
Be the one of 100000 to support us in this campaign! All you need to do just sign up in their official website!
Raise Your Hand, Stop Child Abuse!
(Please ignore my mature kiddo face and I'm without make up!)
Had you seen a child is being rotan-ed until bleeding, had you seen a child got a scar from the left eye corner until right cheek? Do you know what is the feeling when someone pulled your head to bang the wall? Do you know how the children feel when they're abandoned by their parent? I hope you guys can help them, this is because I know how they feel! It won't be recover even though they're growing up and it is the most painful in their childhood memory, they hardly to trust others, they will cry when they're alone, they're lack of love at the most of the time!
If you know any child abuse case around you,
pick up your phone and dial
15999
now!